What Types of Keywords Will Benefit You?: Keywords are the lifeblood of basic SEO, and narrowing them down and targeting particular areas can be crucial for the success of your website. You may strategically place your chosen phrases in your titles or subheadings, however, it is important not to over-saturate your work with excessive terminology.
Overuse of keywords can actually have a negative effect on your page, as the information customers are trying to find becomes over-optimised. Try to use significant phrases sparingly and attempt to embed them within your content. Tools online such as 'Google AdWords Keyword Planner' provide keyword suggestions, and other factors like pay-per-click and monthly local searches. Using these tips, your website could shine through on frequently used services like this one.
An important question that you should ask yourself when researching, is what is your desired outcome? As your online demographic broadens due to the increasing use of mobile phones and easy-access search engines, the competition for business increases with it.
Short-tailed Keywords
If your main target for your website is to reach as many people as it possibly can, then short-tailed keywords are the way to go. A short-tailed keyword is simply a generalised search query consisting of one or two words. This type of SEO is used for broader searches and is known for being an effective tactic for driving up online traffic. An example of this could be "sports trainers", which would present a potential customer with thousands of choices as it is such a loose description. However, if your website targets that type of product then there is a chance someone would be clicking on your URL and interacting with your site.
However, there are some downsides of basing your work on short-tailed phrases. Although the high search volume can be tempting, there is also a high chance of increased competition which may not be very beneficial as a business. Other factors such as a low conversion rate can impact the way you optimize your site. A low conversion rate is based on how many sales are made, divided by how many visitors a website interacts with. This means that short-tailed keywords can limit you because customers don't always find what they're looking for. This then can also lead to a low intent to purchase. Lastly, these factors all contribute to how your website is recognised, and therefore it becomes harder to rank high on Google. Despite all this, it's not to say that hard-work and patience won't pay off.
Long-tailed Keywords
Long-tailed keywords present a more specific and money-making option. If your intent is to bring people to your website in the hope they will buy your product/service, then this SEO technique can work very well. Long-tailed keywords normally consist of three to six words, for example, "Women's Nike White Air Force". This acts as a filter and drastically narrows down the number of options available for a potential customer. Although there will be less online traffic, the intent to purchase will increase as your website will offer what people are looking for.
Long-tailed keywords also present a customer with less options, therefore decreasing the amount of competition for your business which can work in your favour. The only downside of this technique is the fall in search volume, however, an increase in conversion rates may balance out these different aspects.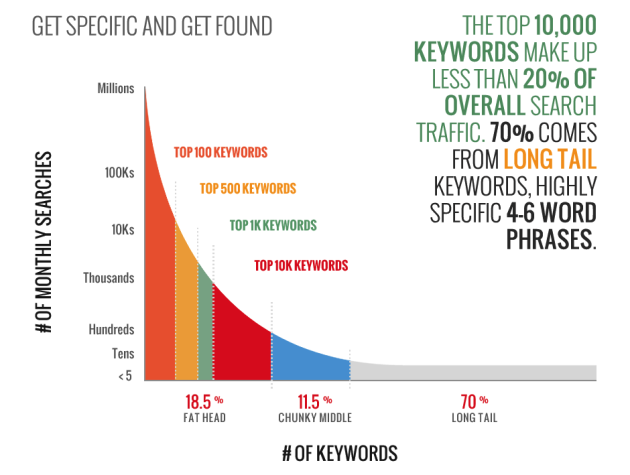 What's Next?
Well, that's down to you. There are both pros and cons for each keyword optimization and depending on your personal desired outcome, your experience should be tailored for your targets. We would recommend just doing your research. The most valuable traffic is more likely to come from those long-tailed keywords, however, short-tailed keywords are also important for driving traffic and raising brand awareness.
You can now determine what types of keywords will benefit you.
If you need help or want professionals to manage your businesses SEO as now you understand the importance of picking and choosing the correct keywords then please contact us here on our contact form.
To learn more about our SEO service please check out our page on Search Engine Optimisation.